Plants + Dance + Pleasure + Intuition
A Transformative Journey For Empowered Women
October 23-28 in Joshua Tree
An immersive experience for women in leadership who love to be triggered, who really want to "go there", who see personal transformation as the cosmic accelerator for growth in business and in life.

This will be unlike anything you've ever experienced.
The next-level dimension of self-exploration is what you seek.
Your body is a gateway to divinity and you want to go deeper.
Orgasmic manifestation is the gift of your femininity. Oh, YES!
You're super psychic; we already know. Let's become a channel.
YOUR GUIDES
Meg Jamison & Special Guest Facilitators
embody your Spiritual Leadership
THE EXPERIENCE
find your medicine
This is an intensive, deep dive training in self-work, and a sacred container. You will be held from start to finish in a space of radical honesty, unusual vulnerability, and explorative ways of being. You will be met and you will meet yourself.
you must
be witnessed
Maybe you've done some of these practices behind closed doors, but have you really ever let others see you as the glorious, wild mess that you are. Being witnessed as an energy, an essence, is the key to the next-level. We begin with a full unravel. Address your greatest fears, death, and your own impermanence.
Let us hold you in your unfolding.
break open with INTENSIVE WORK
The world sees you as a powerful leader; see that magic reflected back in the eyes of another. Our sessions are mini-trainings in the teachings of shadow work, tantra, archetypes, and spirituality partnered with the wisdom of the land through embodiment. We will not be talking at you. We experience with you.
Unlock a whole new way of being and feel the vast expanse of your nature.
become
your own healer
Tantric, meditative, and intuitive practices are the foundation of our program. Through these, we remember the quickest way to our light is thru the body. We share tools for self-healing, knowing, inner-listening and a study of interconnectedness which tap into your own intuitive skills through energy work, channeling, physical touch, and more.
Learn to heal in a new way,
so that you can offer your gifts to others.
About Us
your guides
We are sisters. We hold keys, not the answers.
This is co-creation. You, too, will contribute.
Meg Jamison | Lead Facilitator & Creative Muse
Not any single one of us have the answers. We all hold a very specific set of keys. I will help you unlock the experience of the physical body thru dance therapy and embodiment. I will specifically hold the space for working through shadow and for encouraging you to show us parts of yourself that you didn't even know where there.
My teacher is polarity and finding freedom to be in the extremes. To truly be a light in this world, we need to be fully comfortable with our own darkness and death. This is not easy, but it has led to the purest bliss I've found.
Each one of these women have activated something in me that words cannot describe, but you will get to experience if you join us in Joshua Tree. They are energies, essences, and unique identities unto themselves. They laugh at their flaws and shine in their magic. They are my dearest friends and trusted advisors.
I'll let them tell you themselves…
Ashae Sundara | Pleasure & Sex Goddess
I am a relationship + sex empowerment coach. Lover. Writer. Heart Opener. Paradigm Shifter. Sensuality Feign. She works hand in hand with brilliant courageous women that are willing to take ownership for THEIR SIDE of the story in relationship, business, and life.
If you crave your power and you're searching everywhere for your flirtatious delight, you're bored and unaroused.
In our Pleasure Circle, Ashae will help you activate this belief - Ecstatic living is a lifestyle of owning your worth.
Its the path to manifest your divine right for an epic life.
In your body. In your relationship. In your business. In your soul.
Ashae's role in your story is to help you re-educate the sleeping goddess and hold you through the oceanic high and low waves of becoming your best self.
Eleanor Hooper | Plant-Assisted Psychotherapist
I believe psychedelics offer doorways into the soul. It is then, up to us, to explore where those doors go within ourselves. I run a holistic, nature-based therapy practice in Denver where I have seen the incredible healing power of psychedelics combined with therapeutic integration. Science supports these findings and the world is ready for this new horizon.
Fear comes up around this topic because of misinformation and lack of support with the medicine. I will hold safe/sacred space for us to reconnect with our bodies and minds, so that we can access this dimension beyond the body, space or time.
The name of my work is The Makaranda Method. Makaranda means "nectar" and this I will brings to the group, a sweetness in connecting with earth's medicine.
Em Roscoe | Soul Capturing Photog
As a storyteller and production professional with diverse experience working behind the scenes on Hollywood sets, in corporate brand agency offices, and with small business owners from across the country, I believe that we create big change when we infuse our inner magic with the work we pour into this world.
I will capture your essence in a mini branding session and be a lens through which you can see your multi-dimensional magic.
I am a pure light, a clear mirror, and I'm so excited to co-create.
Lana Blum | Stylist & Creative Muse
I am a designer, artist, stylist and creator of Rising Frequency Collection. I will help you to select the right frequencies for your highest manifestation in this reality and stage of your life.
Our inside world is expressed though our fashion sense. We can let our Archetypes shine through this expression rather than simply following trends. We step into our power when we consciously start to make styling choices.
I have a unique way of viewing the world and see Spirit in everything. We will explore your unique energy together in our session.
THE salt HOUSE
our space
Our spacious, luxurious villa overlooking Joshua Tree will be the perfect support for journeying. When we're not in session, float in our private saltwater spa, cleanse in an outdoor shower, soak up the stars, wander thru the desert, and take up space. We will provide high-vibe, protein-packed vegan meals and the elixirs/herbs/nourishing elements that your heart desires.
THE ONLY GURU IS YOU
We are very un-interested in spiritual dogma or passing down our answers as the only truth. This experience is non-denominational and accessible to all beliefs and walks. We guide you to your own truth.
OUR CUSTOMIZED CURATION
This event reads like a single experience from beginning to end. Everything is intentional and connected. There will always be space for rest and personal choice.
NEXT LEVEL LEADERSHIP
We do not beat around the bush. As guests and guides, we reserve the right to challenge each other. This is specifically designed for those who are ready for the next level and is advanced work. There are requirements for joining us. A willingness to show up to things that trigger you with your fullest self-expression is one of them.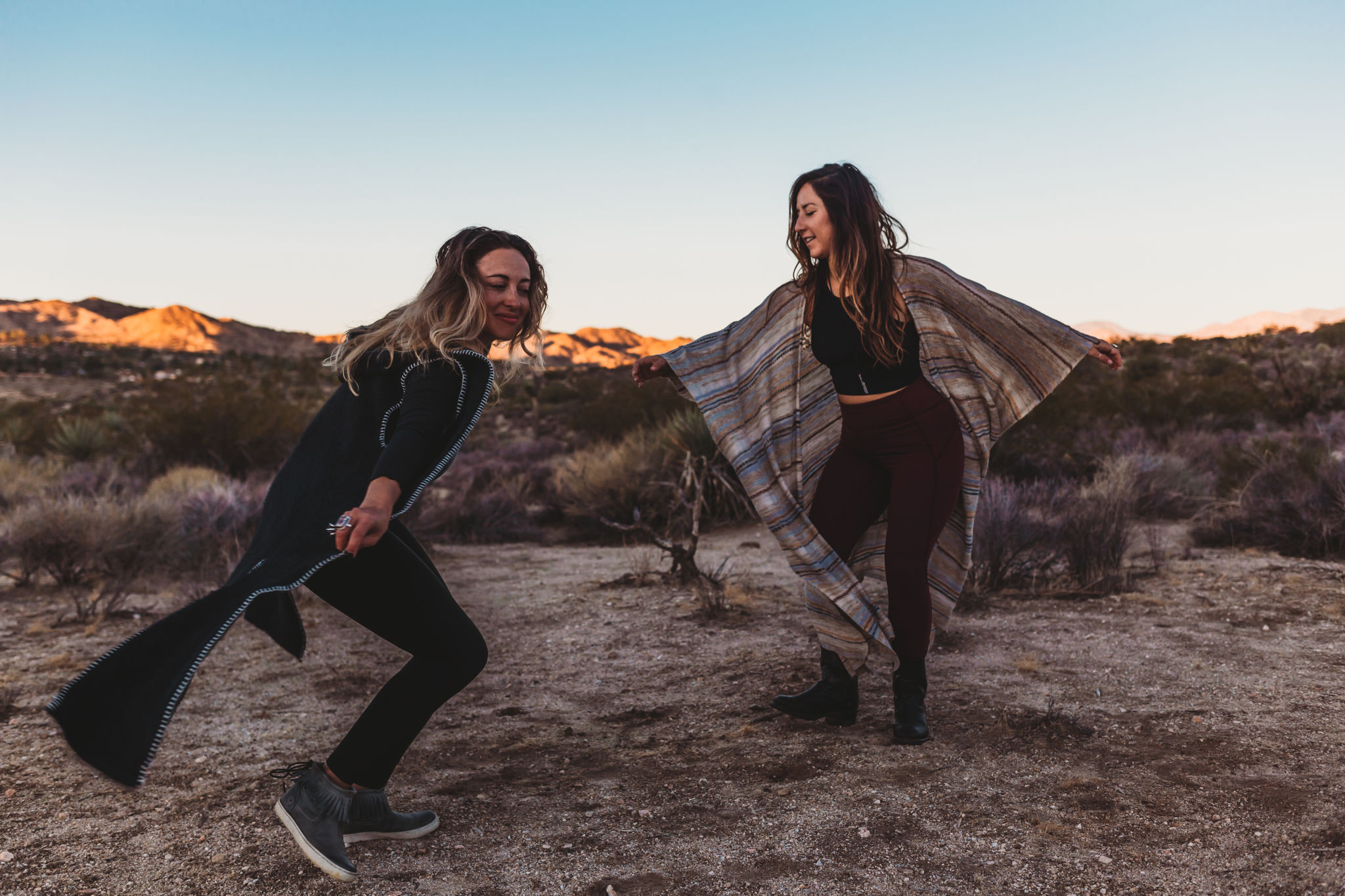 retreat package
YOUR BOOKING INCLUDES:
5-days, 5-nights at The Sunset House
(3) Local, Fresh Meals On Our Terrace
Transformative Group Sessions Each Day
Plant Medicine Ceremony
Sacred Pleasure Circle
Styling Session
A Personal Mini-branding Shoot
Time on the land, in Joshua Tree & time to just be
Pricing and payment plans available on completion of application
Flights can come thru Palm Springs, LAX, or San Diego. We will organize transit to and from the airport for you. Car rental is not included, though you may choose to purchase this.
LIMITED TO 8 courageous DESERT DESTINED WOMEN
We love intimacy, spaciousness, and soulful beings
coming together to crack open and break free.